Feel the battery of Android gadgets drained quickly? Device performance slow down? The culprit may be one (or more) applications installed in the device.
Well, which apps waste battery and degrade performance? The answer is tried by the AVG security agency, which this month analyzed Android devices owned by more than one million users of AVG applications.
The result, as quoted by Kompas Tekno from Forbes, Saturday (22/11/2014), found that Facebook topped the list of 10 Android applications that seize resources alias lower device performance.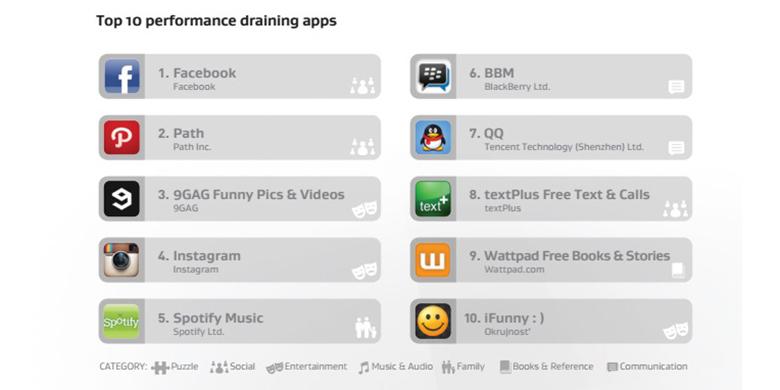 The top 10 most ravenous Android apps are resources, according to AVG research

The reason is mentioned because social networking applications that often connect to check notifications that come in, even when the application itself is not used by users.

The second sequence is occupied by Path, followed by Instagram in fourth position. BlackBerry Messenger chat application was also included in the top 10 rows of the most voracious apps of resources.

The list of most wasteful battery applications dominated by various game titles. Not surprisingly, most Android users spend 62 percent of their time using a device (tablet or smartphone) to play games, according to AVG findings.
The top four battery-wasting apps are dominated by King's game titles, one of the most popular mobile game developers on Android.

Outside of the game, there are also a row of other apps that also waste battery life. Again Facebook appears in this list, in sixth followed by Path. The three Samsung apps, AllShareCast, Chaton, and WatchOn, are in the top-of-the-range apps.
Many of the above apps are the "mandatory" popular titles present in Android gadgets. Then, what can be done to minimize battery waste and performance without having to discard the application in question?

AVG advises users to turn off notification functionality as well as limit the refresh interval for applications running in the background. Both of these can be done by setting the settings from within the application in question.

It is also recommended to frequently clean the application cache because the garbage files collected can be very large. Scrolling the timeline on Facebook for 60 seconds, for example, is called already generating a 5MB cache file. Clear Cache menu can be found in App Manager settings in Android settings menu.