Here are 4 PC VGA Best Gaming PC 2018
VGA List of the Best PC Computers
GIGABYTE RADEON RX 470 G1 GAMING 4

NVIDIA GEFORCE GTX 1060

ASUS MATRIX HD7970 Platinum 3 GB

ASUS GTX670-DC2-4GD5
GIGABYTE RADEON RX 470 G1 GAMING 4
AMD's strategy to work on the mid-market segment while presenting the Radeon RX 400 series of graphics cards continues with the RX 470 being the 'sister' of the Radeon RX 480. AMD sets it up for limited-budget gamers and promises a smooth gaming experience in Full HD 1080p resolution including virtual reality (VR
) if you want it.
The testing unit is represented by Gigabyte Radeon RX 470 G1 Gaming 4G which offers factory overclock speed, qualified cooling system, and RGB lighting effects.
Gigabyte equips Radeon RX 470 G1 Gaming 4G with Windforce 2x cooling system equipped with two 90 mm unique Gigabyte design fan.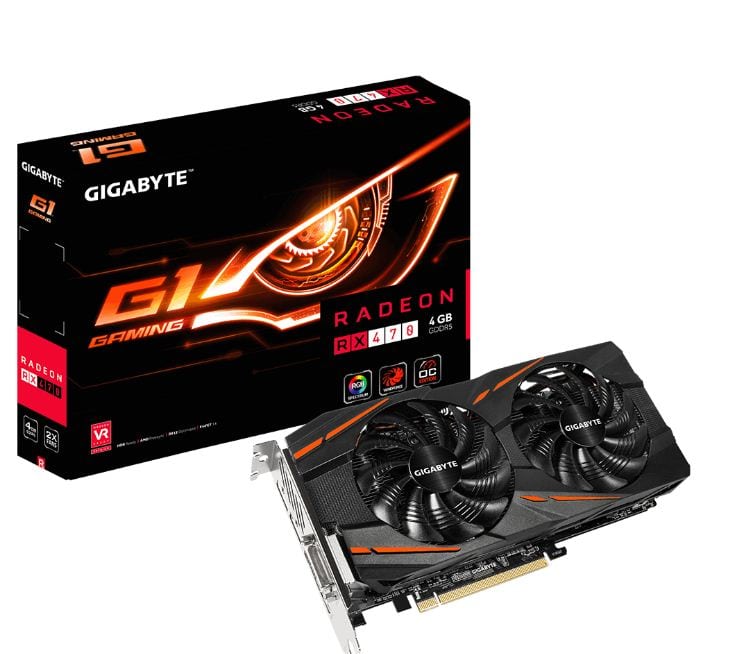 Like other leading cooling systems, both Windforce 2x fans do not rotate when the graphics card's workload is low.
While working, the two fan wind blows away the heat from the aluminum heatsink fins with three composite copper heatpipes attached directly to the GPU chip.
The black cooling system cloak is decorated with orange accents equipped with the RGB Spectrum lighting feature on the Gigabyte logo and fan indicators on the edges.
For GPU chips, Gigabyte claims to have chosen the best through the Gauntlet Sorting GPU process.
The new 6 + 1 phase power design is prepared for overclocked stability supported by an 8-pin power connector instead of a 6-pin reference version.
Strengthening the construction of graphics cards, Gigabyte equip Radeon RX 470 G1 Gaming 4G with backplate on the back.
The Polaris GPU with the fourth generation AMD Graphic Core Next (GCN) architecture owned by Radeon RX 470 has trimmed the number of stream processor cores to 2048. The figure is about 11 percent lower than Radeon's 2304 RX 480.

Gigabyte Radeon RX 470 G1 Gaming 4G offers 1230 MHz overclock speed (boost clock) on non-aggressive cores with 24 MHz boost.
However with the Winforce 2x cooling system and new power phase design, the overclock potential could be higher.
On the performance side, Gigabyte Radeon RX 470 G1 Gaming 4G scored 7760 on 3DMark13 Fire Strike synthetic test.
In the Rise of the Tomb Raider game test with Very High setting at Full HD 1080p resolution, Gigabyte Radeon RX 470 G1 Gaming 4G records an average FPS of 50 FPS, while in the Middle-earth game: Shadow of Mordor with Ultra settings at the same resolution
, Radeon RX 470 made by Gigabyte this incised FPS average 67 FPS.
The price offered Gigabyte is quite high but became one of the best Radeon RX 470 variants on the market.
GPU TRANSISTOR: 5.7 billion

CORE CLOCK: 1230 MHz

MEMORY: GDDR5 4 GB

MEMORY CLOCK: 6600 MHz

PRICE: RP.

3,489,000
Through the GeForce GTX 1060, NVIDIA has complemented the core of the Pascal-based graphics card line.
That is, NVIDIA has provided graphics cards for three different market segments.
And like two previous Pascal graphics cards that offer high performance at each price level, as well as the GeForce GTX 1060. This graphics card is targeting the mainstream segment, but its performance is in the higher class.
The GeForce GTX 1060 retains all the main features of GeForce GTX 1070 and 1080 including the Simultaneous Multi-Projection (SMP) unit.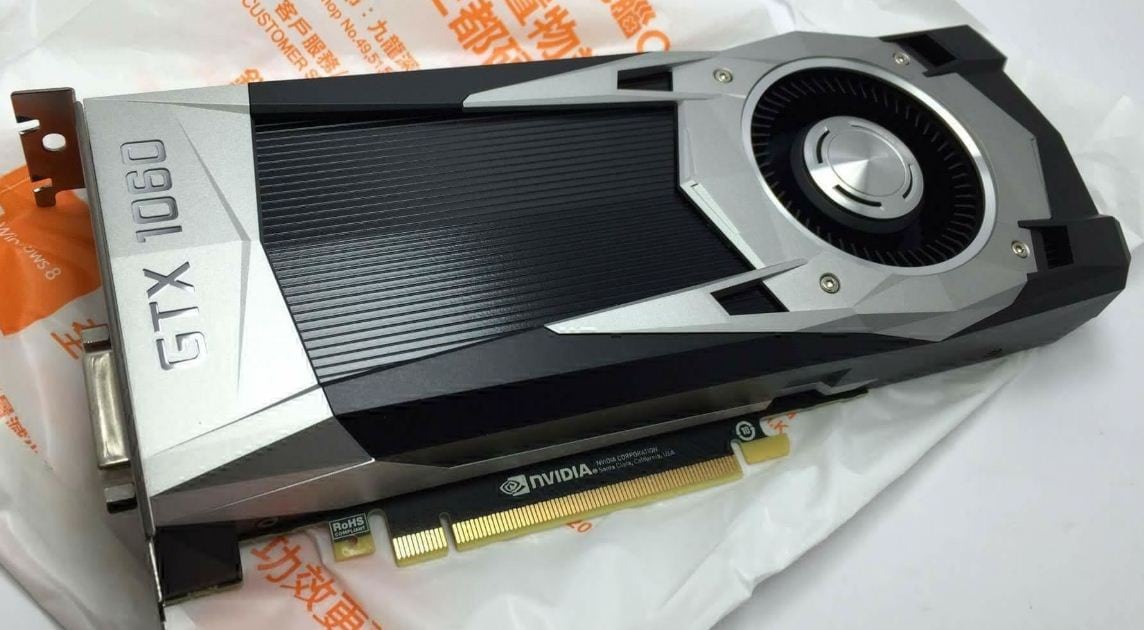 The GeForce GTX 1060 also supports GPU Boost 3.0 and Fast Sync - GPU Boost 3.0 allows custom frequency perset frequencies, whereas Fast Sync helps create low-latency experiences in light games like League of Legends.
The GeForce GTX 1060 GPU chip is also based on a 16 nm FinFET manufacturing process like both siblings that have higher power efficiency.
This is a 120 Watt TDP graphics card or the same as the GeForce GTX 960 that was present before, but with much better performance.
Unlike other Pascal graphics cards, the GeForce GTX 1060 is based on the new GP106 GPU.
GeForce GTX 1060 itself uses the same cooling and fan design as another Founders Edition graphics card, but without the backplate so the PCB board is visible.
However, the aluminum cooling robe has high quality and not much to complain about.
NVIDIA claims the GeForce GTX 1060 has a performance level equivalent to GeForce GTX 980;
our tests show the performance is approaching, but lags behind the graphics card with overclocked manufacturers like MSI GeForce GTX 980 Gaming 4G.
In new games like Hitman, GeForce GTX 1060 is capable of incised 59.32 FPS at 2560 x 1600 pixel resolution with DirectX 12 mode on Ultra settings.
Enchanting performance and become one of the mainstream graphics card capable of delivering high performance over 1080p resolution.
Of course, the closest competitor, AMD Radeon RX 480, is able to outperform it in some games.
If there is one drawback is the GeForce GTX 1060 does not support SLI.
But not a big draw because if you need higher performance, you can get the GeForce GTX 1070 at a cheaper price compared to bringing home two GeForce GTX 1060.
ASUS MATRIX HD7970 Platinum 3 GB
Sitting on the highest caste of ASUS 'line of graphics cards, Matrix offers a wide range of customizations for extreme users both gamers and overclockers.
For lovers of the red camp, ASUS presents Matrix HD7970 Platinum 3 GB.
The Platinum model signifies the best starting from the strict selection of 28 nm GPU Tahit HD7970 GPU chips until the application of the overclock from birth.
But not just tightly wanted to present ASUS through Matrix HD7970 Platinum 3 GB, but also the potential for overclocking thanks to the ranks of features and control overclocking.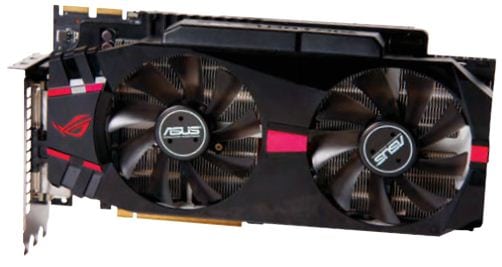 As a supporter of high overclocking potential, ASUS equip it with a massive cooling system DirectCU II which confiscated three expansion slots on the motherboard.
Like the other DirectCU II, the 100 mm dual cooling fan works very quiet as long as it does not touch full speed.
Five heatpipes connect two separate heatsinks as GPU chip heat-release media.
There is also a separate heatsink to cool the power regulator components (VRM) and graphics memory chips.
Matrix HD7970 Platinum 3 GB feels heavy and sturdy thanks to the metal plate behind the graphics card.
In addition to the CrossFireX bridge for multiple graphics card setup and 8-pin double molex power connector, the Matrix HD7970 Platinum 3 GB comes with a variety of buttons and connectors.

At the end of the graphics card can be found three round buttons in which two of them are TweakIT buttons (plus & minus) for GPU voltage manipulation in realtime.
One other button is Safe Mode that serves to restore the BIOS settings with just one push button.
A red button serves as quick access to spur the maximum cooling fan without the help of software.
Although carrying the chip GPU AMD HD7970 GHz Edition with 1050 MHz reference clock core, ASUS gush 50 MHz faster to 1100 MHz on Matrix HD7970 Platinum 3 GB.
If most manufacturers do not touch memory speed, ASUS speeds up 150 MHz compared to the reference version to 1650 MHz (effective 6600 MHz).
Using the ASUS GPU Tweak app with the default Tweakit (green LED) button setting, we managed to achieve 1200 and 1700 MHz speeds in succession for core and clock memory.

At the standard speed, the ASUS HD7970 Matrix Platinum 3 GB is slightly superior thanks to a more aggressive overclocking compared to Sapphire HD7970 VaporX.
ASUS HD7970 3 Platinum Matrix Platinum 3 FPS on the game test S.T.A.L.K.E.R Call of Pripyat and 100 points on 3DMark11 (Performance) test.
At the overclocking speed we get, the ASUS HD7970 Matrix Platinum 3 GB just shows a performance boost of about 2 percent on synthetic testing.
However, the ASUS HD7970 Matrix Platinum 3 GB promises a higher overclocking potential through voltage manipulation as well as the support of a powerful cooling system.
GpU CLOCk


1100 MHz

MeMori CLOCk


1650 MHz

BUS MeMori


384-bit

MeMori


GDDR5 3 GB

Price


Us $ 613

that's 3 best VGA 2018, good luck

...